Is making an appointment for a comprehensive eye exam for your children on your back-to-school checklist? It needs to be.
No amount of new clothes, backpacks or supplies will help your child succeed in school if they have an undetected vision problem.
The difference between eye exams and vision screenings
An annual exam done by an eye doctor is more focused than a visual screening done at school. School screenings are simply "pass-fail tests" that are often limited to measuring a child's sight clarity and visual acuity up to a distance of 20 feet. But this can provide a false sense of security.
There are important differences between a screening and a comprehensive eye exam.
Where a screening tests only for visual acuity, comprehensive exams will test for acuity, chronic diseases, color vision and make sure the eyes are working together properly. This means a child may pass a vision screening at school because they are able to see the board, but they may not be able to see the words in the textbook in front of them.
Why back-to-school eye exams matter
Did you know that 1 out of 4 children has an undiagnosed vision problem because changes in their eyesight go unrecognized?
Myopia, or nearsightedness, is a common condition in children and often develops around the ages of 6 or 7. And nearsightedness can change very quickly, especially between the ages of 11 and 13, which means that an eye prescription can change rapidly over a short period of time. That's why annual checkups are important.
Comprehensive eye exams can detect other eye conditions. Some children may have good distance vision but may struggle when reading up close. This is known as hyperopia or farsightedness. Other eye issues such as strabismus (misaligned eyes), astigmatism or amblyopia (lazy eye) are also detectable.
Kids may not tell you they're having visions issues or even realize it. They may simply think everyone sees the same way they do. Kids often give indirect clues, such as holding books or device screens close to their face, having problems recalling what they've read, or avoiding reading altogether. Other signs could include a short attention span, frequent headaches, seeing double, rubbing their eyes or tilting their head to the side.
What to expect at your child's eye exam
Before the exam, explain that eye exams aren't scary, and can be fun. A kid-friendly eye exam is quick for your child. After the doctor tests how she sees colors and letters using charts with pictures, shapes, and patterns, we will give you our assessment of your child's eyes.
If your child needs to wear glasses, we can even recommend frames and lenses best for their needs.
Set your child up for success
Staying consistent with eye exams is important because it can help your kids see their best in the classroom and when playing sports. Better vision can also mean better confidence because they are able see well.
Because learning is so visual, making an eye examination a priority every year is an important investment you can make in your child's education. You should also be aware that your health insurance might cover pediatric eye exams.
With clearer vision, help make this school year their best ever!
Fireworks Eye Injuries Have More Than Doubled in Recent Years
Fireworks sales will be blazing across the country from now through the Fourth of July. As retailers begin their promotions, the American Academy of Ophthalmology is shining a light on this explosive fact: The number of eye injuries caused by fireworks has more than doubled in recent years.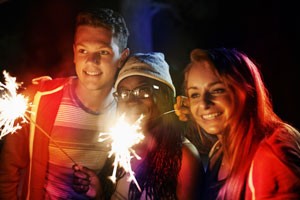 Fireworks injuries cause approximately 10,000 emergency room visits each year, according to data from the U.S. Consumer Product Safety Commission. The injuries largely occurred in the weeks before and after the Fourth of July. The CPSC's most recent fireworks report showed that about 1,300 eye injuries related to fireworks were treated in U.S. emergency rooms in 2014, up from 600 reported in 2011.
To help prevent these injuries, the Academy is addressing four important things about consumer fireworks risks:
Small doesn't equal safe. A common culprit of injuries are the fireworks often handed to small children – the classic sparkler. Many people mistakenly believe sparklers are harmless due to their size and the fact they don't explode. However, they can reach temperatures of up to 2,000 degrees – hot enough to melt certain metals.
Even though it looks like a dud, it may not act like one. At age 16, Jameson Lamb was hit square in the eye with a Roman candle that he thought had been extinguished. Now 20, Lamb has gone through multiple surgeries, including a corneal transplant and a stem cell transplant.
Just because you're not lighting or throwing it doesn't mean you're out of the firing line. An international study of fireworks-related eye injuries showed that half of those hurt were bystanders. The researchers also found that one in six of these injuries caused severe vision loss.
The Fourth can be complete without using consumer fireworks. The Academy advises that the safest way to view fireworks is to watch a professional show where experts are controlling the displays.
If you experience a fireworks eye injury:
Seek medical attention immediately.
Avoid rubbing or rinsing the eyes or applying pressure.
Do not remove any object from the eye, apply ointments, or take any pain medications before seeking medical help.
Watch the AAO's animated public service announcement titled "Fireworks: The Blinding Truth."
Article contributed by Dr. Brian Wnorowski, M.D.
The content of this blog cannot be reproduced or duplicated without the express written consent of Eye IQ
Thank you so much to everyone who voted this year in The Best of the Fox. We are honored and excited to have won this year.
Eye exams, education are important when it comes to knowing about cataracts
Cataracts affect millions of Americans and are a common cause of vision loss as we age.
That's why it's important to be aware of cataract symptoms and to have regular eye exams to help diagnose problems and monitor your vision.
Cataracts affect your eyes by causing cloudiness or opacity to the normally clear lenses that focus light to the retina at the back of your eyes. A cataract distorts that light, which can cause blurry vision and make your eyes sensitive to bright lights – especially at night.
The water and protein that make up the lens or each eye can change as you age, with the protein clumping together to cloud the lens. As the cataract grows it becomes harder to see clearly and may require surgery to remove and replace the lens.
Causes of cataracts:
Aging is the most common cause.
Diseases such as diabetes or hypertension.
Exposure to ultraviolet light from the sun.
Smoking and excessive alcohol use.
Injury to your eyes.
Use of steroid medications
Family history.
Symptoms of cataracts include:
Blurry or cloudy vision.
Problems with night vision.
Glare from the sun, headlights or other light sources.
Colors may start to seem faded.
Double vision.
Diagnosis of cataracts:
While it is important to have regular eye exams, you should contact your eye care professional if you notice cataract symptoms. Testing can include:
Visual acuity testing to determine how well you see at different distances.
Visual field testing to check your peripheral vision.
Questions about your vision and medical history.
Examination of the lenses of your eyes to check for things that indicate a cataract.
Treatment of cataracts:
The necessity of cataract surgery and the surgery itself is something that should be discussed by you and your eye doctor.
Cataract surgery is very common and usually is performed without complication on an outpatient basis.
The lens with the cataract is removed and often replaced with an intraocular lens (IOL), which is implanted in the eye about where your original lens was.
Your doctor will discuss the recovery period after your surgery with you.
While the IOL may correct your distance vision, it's likely you will need reading glasses.
If an IOL can't be used, your doctor will discuss options with you.
Things you can do to protect your eyes:
There is no scientific proof that you can prevent cataracts, but here are some things experts say can reduce your risk:
Get regular eye exams. Early detection of eye problems might save your sight.
Wear polarized sunglasses to protect your eyes from harmful UV rays.
Quit smoking and limit alcohol consumption.
Eat healthy, including fruits, vegetables, nuts and fish high in omega-3 fatty acids. These foods provide vitamin C, vitamin E, as wells as lutein and zeaxanthin. Be sure to discuss any diet change with your eye care professional.
Keep diabetes under control.
It's important to know how cataracts can affect your vision and even more vital to have regular eye exams to screen for cataracts and other problems that can affect your sight as you age.
We're all aware that too much sun can cause skin cancer, but did you know the sun's ultraviolet rays can also do lasting damage to your eyes?
That's why it's important for everyone to wear sunglasses and other lenses that block UV rays.
What is Ultraviolet Light?
UV radiation refers to the invisible rays that come from the sun and can harm our eyesight. Most notably, these rays are UVA and UVB.
UVA rays can hurt your central vision by damaging the lens and retina, which can lead to cataracts and macular degeneration. UVB rays can damage the front part of your eye, possibly leading to growths on the eye surface and causing corneal issues and distorted vision.
UV rays can come from many directions. They radiate directly from the sun, but they also are reflected from the ground, water, snow, sand and other bright surfaces. These rays can affect your eyes even when it's cloudy.
These are some of the problems caused by UV rays:
Macular Degeneration, which is a loss of central vision.
Cataracts, which blur your eye's lens and cause cloudy vision.
Pterygium, a growth of pink, fleshly tissue that begins on the white of the eye.
Photokeratitis, or "Sunburn of the eye," which causes red eyes, sensitivity to light and excessive tearing.
The longer your eyes are exposed to solar radiation, the greater the risk of developing cataracts or macular degeneration later in life. That's why it's important for adults and children to wear sunglasses with up to 100% UV protection. And if you wear regular glasses or contacts, those lenses should have UV protection as well.
Preventing the damaging effects of ultraviolet light is simple. First and foremost, you should limit your exposure to the sun, and when you are in the sun you should wear proper eye protection and a broad-brimmed hat to block the sun's rays from your eyes as much as possible.
Eyewear created to block UV rays gives you the most protection. All types of eyewear - including prescription and non-prescription glasses, contact lenses and lens implants - should block UVA and UVB rays.
Children and teenagers are at special risk from the harmful effects of UV rays, since their eyes do not have the same ability as adults to filter out some UV radiation. They also often spend more time outside than adults. Parents should teach kids the importance of wearing sunglasses and hats to block the sun's rays. And any glasses they wear should be designed to block UV rays and glare.
You should choose sunglasses that:
Block 99% to 100% of both UVA and UVB radiation.
Are polarized to reduce glare and brightness.
Are impact-resistant to further protect your eyes.
Are comfortable to wear.
Do not distort colors.
Things to consider when buying eyewear for outdoor activities:
Wraparound frames provide more sun protection and can help block wind and debris.
Lenses made from polycarbonate material are more impact-resistant and are lighter weight.
Color makes a difference. Gray or green lenses are good for bright conditions, while yellow, amber or orange-red tints can increase contrast and clarity. The color you choose depends on your needs.
Adding polarization to your lenses reduces glare and filters haze.
Come in and talk to us. We want to help you find the lenses that are right for your needs and to make sure your eyes get the ultimate protection.
We are excited to share that we have decided to carry State Optical frames. These frames are made in the United States, and even more exciting right here in Vernon Hills, Illinois. These handcrafted frames are made through a process which takes 2 weeks from start to finish, and requires over 50% of all work done by hand. We have also taken the factory tour, and watched first-hand how these frames are produced. The detail and skill they build into each frame is truly special and one of a kind. Please stop in the office anytime to see the collection in person.
On Wednesday April 26th, the office will be closed for staff training. We are visiting one of the labs we work with to continue our education on the newest technology in making lenses. We are so sorry for any inconvenience this causes and will be back open Thursday, April 27th, 8 am to 5 pm.
It's that time of year again. Best of the Fox voting through the Northwest Herald has started. You can vote for all your favorite businesses in the McHenry County Area. You can follow the link below to vote.
https://shawnews.secondstreetapp.com/l/Northwest-Heralds-Best-of-the-Fox-2017-1
After a lot of hard work with EyeMotion, our website company, we're pleased to be launching our brand-new website. Our goal has been to create a site that would assist you in learning about us, whether it's finding our location or email form, reading about our wonderful eye doctors, or discovering some of our quality products and services.
Have questions about an eye issue? We think you might also benefit from our great optometric content on eye diseases and conditions.
Our plan is to use this area to keep you informed on new offerings, sales, trunk shows, events, and so much more. Check back here from time to time to keep updated.
We're glad you found us, and we hope to see you soon!